Links
---

We parsed the following live from the Web into this page. Such content is managed by its original site and not cached on Discover Life. Please send feedback and corrections directly to the source. See original regarding copyrights and terms of use.

---
Following served from Firefly Forest

Top | See original context

Following served from San Diego State University

Top | See original context

Following served from Ken Bowles

Top | See original context

Following modified from Calflora

Top | See original

Baccharis salicifolia (Ruíz Lopez & Pavón) Pers. ssp. salicifolia

Mulefat
Asteraceae (Sunflower Family)
Mulefat is an erect, woody, willowlike perennial shrub growing to 12' high with stems that are simple to branched and glabrous to minutely puberulent, often sticky, and branches that are longitudinally grooved. The leaves are alternate, lance-linear, entire to toothed, acuminate-tipped, and 1-3-veined with the midrib more prominent than the lateral ones. The leaves can be 6" long and are on short petioles. The flower heads are disciform and are arranged in compact terminal clusters at the ends of the branches. Baccharis is a dioecious genus, so there are both staminate and pistillate heads but they are on separate plants. The first two pictures show the male flowers and the second two show the female flowers. The involucres of both are hemispheric, white, and roughly 3/16" high, with imbricated phyllaries in 4-5 series, ovate to lanceolate in shape, somewhat papery or scarious in texture, glabrous and ± tinged red. Mulefat is mostly found below 3500' along stream banks and in dry stream beds in coastal sage scrub and chaparral. It ranges from Baja to central California and from the coast to the deserts, and blooms most of the year but principally from April to October. It used to be named B. glutinosa , referring to the glutinous character of the leaves, but in the more recent Jepson Manual it is listed as B. salicifolia , which is a reference to its willow-like appearance.

Click here for Latin name derivations: 1) Baccharis 2) salicifolia .
Pronunciation: BAK-ar-is sa-lis-i-FO-lee-a .
Click here for Botanical Term Meanings .

Following modified from Virginia Tech Dendrology

Top | See original

&pull 20q v5.145 20180528: Error 500 Can't connect to www.cnr.vt.edu:80 http://www.cnr.vt.edu/dendro/dendrology/syllabus2/baccharis_salicifolia.htm

Following served from American Museum of Natural History, Plant Bug AMNH_PBI00139322 pbi_cal04l20h117

Top | See original context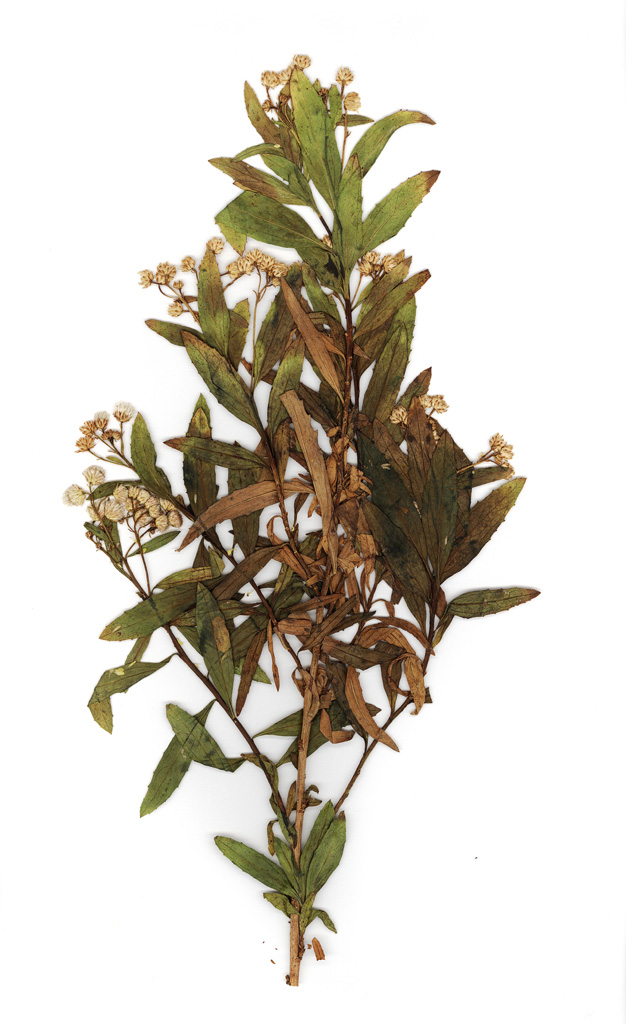 Following modified from Malezas de Mexico, CONABIO

Top | See original

http://conabioweb.conabio.gob.mx/malezasdemexico/asteraceae/baccharis-salicifolia/FICHAS/0PAGINA1.HTM ---> http://www.conabio.gob.mx/institucion/notfound/doctos/notfound.html

| | | |
| --- | --- | --- |
| | | |
| | | |
| | | |
| | Conabio | |
Para ver correctamente esta página su navegador debe soportar CSS
No podemos encontrar esa página

Lo sentimos lo que intentó buscar no fue encontrado en nuestro sitio. Recuerde que la estructura del sito cambió desde el 30 de abril de 2002, para reportar una liga inexistente por favor, escriba un mensaje a conabio@xolo.conabio.gob.mx .

Presione aquí para nuestro mapa del sitio y búsqueda o vaya a nuestra página principal .

We can't find that page.

We are sorry, the page you attempted to find was not found on Conabio's site, Remember that the structure site was change since april 29th, 2002, to report a broken link, please send a message to conabio@xolo.conabio.gob.mx .

Click here to our Site Map and Search or go to our home page site .
Following modified from Plants Database, United States Department of Agriculture

Top | See original

http://plants.usda.gov/java/profile?symbol=BASA4 ---> https://plants.usda.gov/java/profile?symbol=BASA4
https://plants.usda.gov/java/profile?symbol=BASA4 ---> http://plants.usda.gov/core/profile?symbol=BASA4
http://plants.usda.gov/core/profile?symbol=BASA4 ---> https://plants.usda.gov/core/profile?symbol=BASA4

You are here: Home / Plant Profile

Baccharis salicifolia (Ruiz & Pav.) Pers.
mule-fat


About our new maps

Native
Introduced
Both
Absent/Unreported
Native, No County Data
Introduced, No County Data
Both, No County Data

Images

click on a thumbnail to view an image, or see all the Baccharis thumbnails at the Plants Gallery



William & Wilma Follette. USDA NRCS. 1992. Western wetland flora: Field office guide to plant species . West Region, Sacramento. Provided by USDA NRCS Wetland Science Institute (WSI). Usage Requirements .

slideshow

Synonyms

| Symbol | Scientific Name |
| --- | --- |
| BAGL2 | Baccharis glutinosa Pers. |
| BAVI | Baccharis viminea DC. |
| MOSA5 | Molina salicifolia Ruiz & Pav. |

Classification

Click on a scientific name below to expand it in the PLANTS Classification Report.

Subordinate Taxa

This plant has no children

Legal Status

Wetland Status

Interpreting Wetland Status



North America
Arid West
FAC
Atlantic and Gulf Coastal Plain
FACW
Great Plains
FACW
Western Mountains, Valleys, and Coast
FACW

Synonyms

BAGL2 Baccharis glutinosa Pers.

North America
Arid West
FACW
Western Mountains, Valleys, and Coast
OBL




Related Links

Wildlife

Food

| Source | Large Mammals | Small Mammals | Water Birds | Terrestrial Birds |
| --- | --- | --- | --- | --- |

Cover

| Source | Large Mammals | Small Mammals | Water Birds | Terrestrial Birds |
| --- | --- | --- | --- | --- |

Description of Values



Following modified from Flora of North America

Top | See original
14. Baccharis salicifolia (Ruiz & Pavón) Persoon, Syn. Pl. 2: 425. 1807.

Mule's or mule fat, seepwillow, water wally

Molina salicifolia Ruiz & Pavón, Syst. Veg. Fl. Peruv. Chil., 210. 1798; Baccharis glutinosa Persoon; B. viminea de Candolle; B. viminea var. atwoodii S. L. Welsh

Shrubs, 30—400 cm (stems cluster-ed). Stems spreading to ascending, green to tan, simple proximally, sparingly branched distally, striate-angled, glabrous or minutely hairy, resinous and ± resin-varnished. Leaves present at flowering (abundant, well developed); sessile or petiolate; blades lanceolate-elliptic, slightly falcate (willowlike), 30—150 × 3—20 mm, bases attenuate , margins usually finely serrate from bases to apices, sometimes entire, apices acute to acuminate, faces glabrous, gland-dotted, ± resinous. Heads in terminal, compound corymbiform arrays (often involving distal branches). Involucres hemispheric; staminate 3—6 mm, pistillate involucres 3—6 mm. Phyllaries ovate to lanceolate, 2—4 mm, margins scarious, erose or irregularly dentate, midribs distinct, medians green or reddish, apices (greenish or brownish purple) obtuse to acuminate (pale and dry, glabrous). Staminate florets (10—)17—48; corollas 4—6 mm. Pistillate florets 50—150; corollas 2—3.5 mm. Cypselae 0.8—1.5 mm, 5-nerved, glabrous; pappi 3—6 mm. 2 n = 18, 36.

Flowering (Jan—)Mar—Oct. Stream banks, dry washes, sandy flood plains, riparian woodlands, disturbed sites, ditches; 30—2400 m; Ariz., Calif., Colo., Nev., N.Mex., Tex., Utah; Mexico; South America.

Baccharis salicifolia is part of a complex that extends through the southwestern United States, Mexico, Central America, and South America to Argentina and Chile (J. Cuatrecasas 1968). It is recognized by the narrowly lanceolate, willowlike, finely serrate leaves with acute or acuminate apices, smallish heads in dense clusters, reddish phyllaries, and 5-nerved cypselae. By tagging and measuring individual plants throughout the year, D. H. Wilken (1972) demonstrated that B. salicifolia has distinct seasonal forms. The North American plants were once known as B. glutinosa or B. viminea , which were differentiated from each other by differences in woodiness, leaf size and serration, and flowering time.

SELECTED REFERENCE

Wilken, D. H. 1972. Seasonal dimorphism in Baccharis glutinosa (Compositae). Madroño 21: 113—119.

Following modified from CalPhotos

Top | See original

http://calphotos.berkeley.edu/cgi/img_query?query_src=dl&where-taxon=Baccharis+salicifolia&where-lifeform=specimen_tag&rel-lifeform=ne&rel-taxon=begins+with&where-lifeform=Plant ---> https://calphotos.berkeley.edu/cgi/img_query?query_src=dl&where-taxon=Baccharis+salicifolia&where-lifeform=specimen_tag&rel-lifeform=ne&rel-taxon=begins+with&where-lifeform=Plant




Contributors • Log In

Number of matches : 138
Query: SELECT * FROM img WHERE ready=1 and taxon like "Baccharis salicifolia%" and (lifeform != "specimen_tag" OR lifeform != "Plant") ORDER BY taxon


Click on the thumbnail to see an enlargement


Baccharis salicifolia
Mule-fat
ID: 8120 3181 4569 0029 [detail]
Charles Webber
© 1998 California Academy of Sciences




Baccharis salicifolia
Mule's Fat
ID: 0000 0000 0104 0768 [detail]
© 2004 James M. Andre




Baccharis salicifolia
Mule-fat
ID: 5208 1611 0226 0027 [detail]
© 1995 Saint Mary's College of California




Baccharis salicifolia
Mule-fat
ID: 8120 3181 4897 0092 [detail]
Charles Webber
© 1998 California Academy of Sciences




Baccharis salicifolia
Mule-fat
ID: 5208 1611 0226 0028 [detail]
© 1995 Saint Mary's College of California




Baccharis salicifolia
Mule's Fat
ID: 0000 0000 0104 1050 [detail]
© 2004 Dr. Daniel L. Geiger




Baccharis salicifolia
Mule-fat
ID: 8120 3181 4567 0126 [detail]
Charles Webber
© 1998 California Academy of Sciences




Baccharis salicifolia
Mule Fat
ID: 0000 0000 1200 0286 [detail]
© 1979 Lee Dittmann




Baccharis salicifolia
ID: 0000 0000 0407 2104 [detail]
© 2007 Lynn Watson




Baccharis salicifolia
Mule-fat
ID: 5208 1611 0226 0025 [detail]
© 1995 Saint Mary's College of California




Baccharis salicifolia
Mule-fat
ID: 5208 1611 0226 0026 [detail]
© 1995 Saint Mary's College of California




Baccharis salicifolia
Mule's Fat
ID: 0000 0000 0104 1049 [detail]
© 2004 Dr. Daniel L. Geiger




Baccharis salicifolia
ID: 0000 0000 0606 0248 [detail]
© 2006 Steve Matson




Baccharis salicifolia
ID: 0000 0000 0606 0249 [detail]
© 2006 Steve Matson




Baccharis salicifolia
ID: 0000 0000 0606 0250 [detail]
© 2006 Steve Matson




Baccharis salicifolia
ID: 0000 0000 0606 0251 [detail]
© 2006 Steve Matson




Baccharis salicifolia
ID: 0000 0000 0606 0252 [detail]
© 2006 Steve Matson




Baccharis salicifolia
Mule's Fat
ID: 0000 0000 0307 0967 [detail]
© 2007 Richard Zmasek




Baccharis salicifolia
ID: 0000 0000 0508 0731 [detail]
© 2008 Steve Matson




Baccharis salicifolia
Mule's Fat
ID: 0000 0000 1008 0987 [detail]
© 2008 Zoya Akulova




Baccharis salicifolia
Mule-fat
ID: 0000 0000 1208 1553 [detail]
© 2008 Keir Morse




Baccharis salicifolia
Mule-fat
ID: 0000 0000 1208 1554 [detail]
© 2008 Keir Morse




Baccharis salicifolia
Mule-fat
ID: 0000 0000 1208 1555 [detail]
© 2008 Keir Morse




Baccharis salicifolia
Mule-fat
ID: 0000 0000 1208 1556 [detail]
© 2008 Keir Morse



Using these photos: A variety of organizations and individuals have contributed photographs to CalPhotos. Please follow the usage guidelines provided with each image. Use and copyright information, as well as other details about the photo such as the date and the location, are available by clicking on the [detail] link under the thumbnail. See also: Using the Photos in CalPhotos .





Copyright &copy 1995-2019 UC Regents. All rights reserved.




CalPhotos is a project of BNHM University of California, Berkeley

Following modified from CalPhotos

Top | See original

http://calphotos.berkeley.edu/cgi/img_query?query_src=dl&where-taxon=Baccharis+salicifolia+ssp.+salicifolia&where-lifeform=specimen_tag&rel-lifeform=ne&rel-taxon=begins+with&where-lifeform=Plant ---> https://calphotos.berkeley.edu/cgi/img_query?query_src=dl&where-taxon=Baccharis+salicifolia+ssp.+salicifolia&where-lifeform=specimen_tag&rel-lifeform=ne&rel-taxon=begins+with&where-lifeform=Plant




Contributors • Log In

Number of matches : 46
Query: SELECT * FROM img WHERE ready=1 and taxon like "Baccharis salicifolia ssp. salicifolia%" and (lifeform != "specimen_tag" OR lifeform != "Plant") ORDER BY taxon


Click on the thumbnail to see an enlargement


Baccharis salicifolia ssp. salicifolia
Mule Fat
ID: 0000 0000 1111 1568 [detail]
© 2011 Barry Breckling




Baccharis salicifolia ssp. salicifolia
Mule Fat
ID: 0000 0000 0813 2197 [detail]
© 2013 Keir Morse




Baccharis salicifolia ssp. salicifolia
Mule Fat
ID: 0000 0000 0813 2198 [detail]
© 2013 Keir Morse




Baccharis salicifolia ssp. salicifolia
Mule Fat
ID: 0000 0000 0813 2199 [detail]
© 2013 Keir Morse




Baccharis salicifolia ssp. salicifolia
Mule Fat
ID: 0000 0000 0813 2200 [detail]
© 2013 Keir Morse




Baccharis salicifolia ssp. salicifolia
Mule Fat
ID: 0000 0000 0813 2201 [detail]
© 2013 Keir Morse




Baccharis salicifolia ssp. salicifolia
Mule Fat
ID: 0000 0000 0813 2202 [detail]
© 2013 Keir Morse




Baccharis salicifolia ssp. salicifolia
Mule Fat
ID: 0000 0000 0813 2203 [detail]
© 2013 Keir Morse




Baccharis salicifolia ssp. salicifolia
Mule Fat
ID: 0000 0000 0813 2204 [detail]
© 2013 Keir Morse




Baccharis salicifolia ssp. salicifolia
Mule Fat
ID: 0000 0000 0813 2205 [detail]
© 2013 Keir Morse




Baccharis salicifolia ssp. salicifolia
Mule Fat
ID: 0000 0000 0813 2206 [detail]
© 2013 Keir Morse




Baccharis salicifolia ssp. salicifolia
Mule Fat
ID: 0000 0000 0813 2207 [detail]
© 2013 Keir Morse




Baccharis salicifolia ssp. salicifolia
Mule Fat
ID: 0000 0000 0813 2208 [detail]
© 2013 Keir Morse




Baccharis salicifolia ssp. salicifolia
Mule Fat
ID: 0000 0000 0813 2209 [detail]
© 2013 Keir Morse




Baccharis salicifolia ssp. salicifolia
Mule Fat
ID: 0000 0000 0813 2210 [detail]
© 2013 Keir Morse




Baccharis salicifolia ssp. salicifolia
Mule Fat
ID: 0000 0000 0813 2211 [detail]
© 2013 Keir Morse




Baccharis salicifolia ssp. salicifolia
Mule Fat
ID: 0000 0000 0813 2212 [detail]
© 2013 Keir Morse




Baccharis salicifolia ssp. salicifolia
Mule Fat
ID: 0000 0000 0813 2213 [detail]
© 2013 Keir Morse




Baccharis salicifolia ssp. salicifolia
Mule Fat
ID: 0000 0000 0813 2214 [detail]
© 2013 Keir Morse




Baccharis salicifolia ssp. salicifolia
Mule Fat
ID: 0000 0000 0813 2215 [detail]
© 2013 Keir Morse




Baccharis salicifolia ssp. salicifolia
Mule Fat
ID: 0000 0000 0813 2216 [detail]
© 2013 Keir Morse




Baccharis salicifolia ssp. salicifolia
Mule Fat
ID: 0000 0000 0813 2217 [detail]
© 2013 Keir Morse




Baccharis salicifolia ssp. salicifolia
Mule Fat
ID: 0000 0000 1013 0323 [detail]
© 2013 Jean Pawek




Baccharis salicifolia ssp. salicifolia
Mule Fat
ID: 0000 0000 1013 0324 [detail]
© 2013 Jean Pawek



Using these photos: A variety of organizations and individuals have contributed photographs to CalPhotos. Please follow the usage guidelines provided with each image. Use and copyright information, as well as other details about the photo such as the date and the location, are available by clicking on the [detail] link under the thumbnail. See also: Using the Photos in CalPhotos .





Copyright &copy 1995-2019 UC Regents. All rights reserved.




CalPhotos is a project of BNHM University of California, Berkeley

Updated: 2019-11-19 12:57:35 gmt