Links
---

We parsed the following live from the Web into this page. Such content is managed by its original site and not cached on Discover Life. Please send feedback and corrections directly to the source. See original regarding copyrights and terms of use.

---
Identification
< href="http://www.nearctica.com/flowers/composit/b_lgen/erigeron/Eannuus.htm">Nearctica.com


Names


Supported by

Following modified from Flora of Taiwan, National Taiwan University

Top | See original

&pull 20q v5.145 20180528: Error 404 Not Found http://tai2.ntu.edu.tw/udth/bin/fot1.exe/browse?bid=4&page=946

Following modified from Delaware Wildflowers

Top | See original

Following modified from MissouriPlants.com

Top | See original


Erigeron annuus (L.) Pers.
Family - Asteraceae
Stems - To 1.5m tall, hirsute to sparse pubescent, simple or branching above, herbaceous, terete to ridged, from fibrous roots.
Lower portion of stem.
Leaves - Alternate. Lowest leaves petiolate, to +10cm long. Petioles winged, to +2cm long. Upper cauline leaves sessile, non-clasping, lanceolate to linear-lanceolate, coarsely toothed to entire, with ciliate margins, pubescent above and below, to 9cm long, +2cm broad, reduced above.
Inflorescence - Single flower heads terminating axillary peduncles. Peduncles slightly expanded just below flower head, hollow, pubescent(appressed).
Involucre - In single subequal series or with outer series of tiny, scant bracts and single inner series. Phyllaries -1mm broad, 5-6mm long, entire, short pubescent to pilose, attenuate. Receptacle dome-shaped in cross section.
Involucre.
Ray flowers - Pistillate. Ligules white to pinkish, linear, threadlike, +/-100, to 1cm long, -1mm broad, glabrous.
Disk flowers - Disk to -1cm broad. Corollas yellow, 2-3mm long, 5-lobed. Achenes pubescent. Pappus of barbed capillary bristles to 2mm long and often with short outer row of scales.
Flowering - April - November.
Habitat - Waste ground, pastures, prairies, disturbed sites, roadsides, railroads.
Origin - Native to U.S.
Other info. - This is one of the most weedy flowers in Missouri. It can bloom at a height of 10cm if mowed over or cut. The leaves have quite a bit of variation in the amount of teeth on the margins and the overall shape.
Photographs taken in the Ozark Scenic Riverways, 6-3-03.
Home




Following served from American Museum of Natural History, Plant Bug AMNH_PBI00001295 wa%201996%20l18%20h061

Top | See original context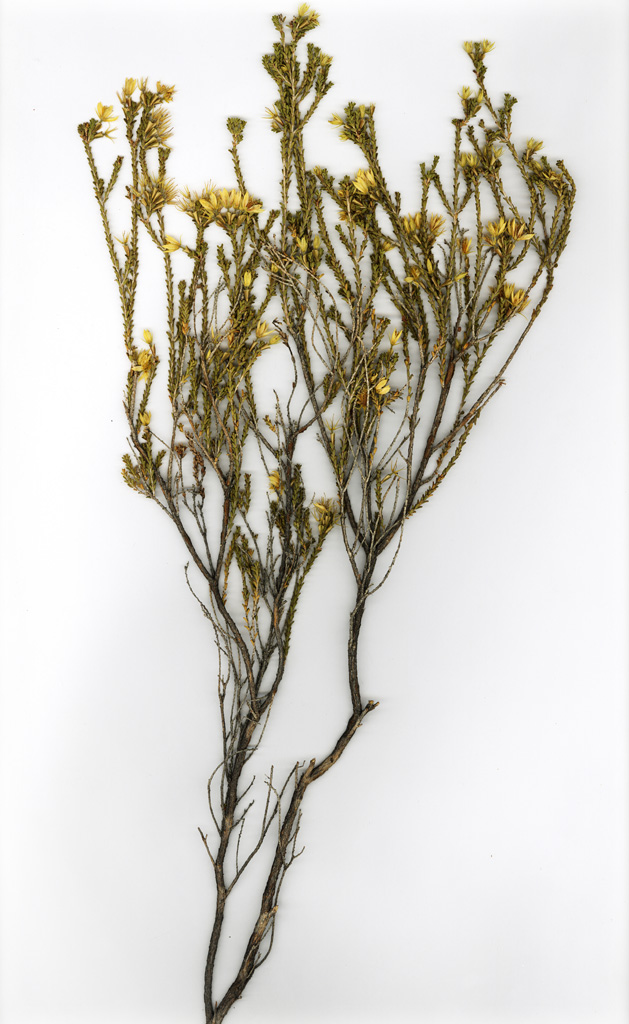 Following modified from Taiwan Biodiversity National Information Network

Top | See original
 

Kingdom Plantae
Phylum Tracheophyta
Class Magnoliopsida
Order Asterales
Family Asteraceae
Genus Erigeron
Erigeron annuus (L.) Pers.

Provider:
Ching-I Peng
Synonyms:
Aster annuus , Aster stenactis , Erigeron annuus annuus , Erigeron annuus discoideus , Phalacroloma annuum , Phalacroloma annuum annuum , Stenactis annua , Stenactis annua annua
Citation:
Flora of Taiwan 2nd ed. 4: 946, 1998; Wu, S. H., C. F. Hsieh, and Marcel Rejmanek. 2004. Catalogue of the Naturalized Flora of Taiwan. Taiwania
Name Code:
202467

| | | |
| --- | --- | --- |
| | Alien | |

Suggested Link
Discover Life Flora of Taiwan 2nd eBooks (National Taiwan University) Nature Campus
影像資料:
User Response:

 
Following modified from Plants Database, United States Department of Agriculture

Top | See original

http://plants.usda.gov/java/profile?symbol=ERAN ---> https://plants.usda.gov/java/profile?symbol=ERAN
https://plants.usda.gov/java/profile?symbol=ERAN ---> http://plants.usda.gov/core/profile?symbol=ERAN
http://plants.usda.gov/core/profile?symbol=ERAN ---> https://plants.usda.gov/core/profile?symbol=ERAN

You are here: Home / Plant Profile

Erigeron annuus (L.) Pers.
eastern daisy fleabane


About our new maps

Native
Introduced
Both
Absent/Unreported
Native, No County Data
Introduced, No County Data
Both, No County Data

Images

click on a thumbnail to view an image, or see all the Erigeron thumbnails at the Plants Gallery



slideshow

Synonyms

| Symbol | Scientific Name |
| --- | --- |
| ERAND | Erigeron annuus (L.) Pers. var. discoideus (Vict. & J. Rousseau) Cronquist |
| STAN10 | Stenactis annua (L.) Nees |

Classification

Click on a scientific name below to expand it in the PLANTS Classification Report.

Subordinate Taxa

This plant has no children

Legal Status

U.S. Weed Information
Erigeron annuus annual fleabane This plant can be weedy or invasive according to the authoritative sources noted below.This plant may be known by one or more common names in different places, and some are listed above. Click on an acronym to view each weed list, or click here for a composite list of Weeds of the U.S.
KY
Haragan, P.D.. 1991. Weeds of Kentucky and adjacent states: a field guide . The University Press of Kentucky. Lexington, Kentucky.

Wetland Status

Interpreting Wetland Status



North America
Arid West
FACU
Atlantic and Gulf Coastal Plain
FACU
Eastern Mountains and Piedmont
FACU
Great Plains
FACU
Midwest
FACU
Northcentral & Northeast
FACU
Western Mountains, Valleys, and Coast
FACU

Related Links

Wildlife

Food

| Source | Large Mammals | Small Mammals | Water Birds | Terrestrial Birds |
| --- | --- | --- | --- | --- |
| Miller | Low | | | |

Cover

| Source | Large Mammals | Small Mammals | Water Birds | Terrestrial Birds |
| --- | --- | --- | --- | --- |
| Miller | | | | |

Sources

Miller, J.H., and K.V. Miller. 1999. Forest plants of the southeast and their wildlife uses . Southern Weed Science Society.

Description of Values

| Value Class | Food | Cover |
| --- | --- | --- |
| High | Average 25-50% of diet | Regular source of cover |
| Low | 5-10% of diet | Infrequently used as cover |
| Minor | 2-5% of diet | Sparsely used as cover |
| Moderate | Average 10-25% of diet | Occasional source of cover |



Following modified from Flora of North America

Top | See original
169. Erigeron annuus (Linnaeus) Persoon, Syn. Pl. 2: 431. 1807.

Eastern daisy fleabane, vergerette annuelle

Aster annuus Linnaeus, Sp. Pl. 2: 875. 1753; Erigeron annuus var. discoideus (Victorin & J. Rousseau) Cronquist

Annuals, (10—)60—150 cm; fibrous-rooted or taprooted. Stems erect, sparsely piloso-hispid (hairs spreading), sometimes strigose distally, eglandular. Leaves basal (usually withering by flowering) and cauline; basal blades mostly lanceolate to oblanceolate or ovate, 15—80 × 3—20 mm, margins coarsely serrate to nearly entire, faces sparsely strigoso-hirsute, eglandular; cauline lanceolate to oblong, little reduced proximal to midstem. Heads ca. 5—50+ in loosely paniculiform or corymbiform arrays. Involucres 3—5 × 6—12 mm. Phyllaries in 2—3(—4) series, sparsely villous or hirsuto-villous, minutely glandular. Ray florets 80—125; corollas white, 4—10 mm, laminae tardily coiling. Disc corollas 2—2.8 mm. Cypselae 0.8—1 mm, 2-nerved, faces sparsely strigose; pappi: outer minute crowns of setae or narrow scales, inner 0 (rays) or of 8—11 bristles (disc). 2 n = 27.

Flowering Jun—Aug(—Nov). Mostly open, disturbed habitats, especially roadsides, fields, waste areas; 0—500(—2200) m; St. Pierre and Miquelon; B.C., Man., N.B., Nfld. and Labr. (Nfld.), N.S., Ont., P.E.I., Que., Sask.; Ala., Ark., Calif., Conn., Del., D.C., Fla., Ga., Idaho, Ill., Ind., Iowa, Kans., Ky., La., Maine, Md., Mass., Mich., Minn., Miss., Mo., Nebr., N.H., N.J., N.Y., N.C., Ohio, Okla., Oreg., Pa., R.I., S.C., S.Dak., Tenn., Tex., Utah, Vt., Va., Wash., W.Va., Wis.; Mexico (Hidalgo); Central America (Costa Rica, Nicaragua, Panama); Europe; Asia.

Erigeron annuus is apparently native to eastern North America (United States and southern Canada) and is introduced elsewhere; it probably occurs in North Dakota and Alberta; apparently it has not been documented there. Apparent intermediates between E. annuus and E. strigosus are encountered.

Following modified from CalPhotos

Top | See original

http://calphotos.berkeley.edu/cgi/img_query?query_src=dl&where-taxon=Erigeron+annuus+ssp.+annuus&where-lifeform=specimen_tag&rel-lifeform=ne&rel-taxon=begins+with&where-lifeform=Plant ---> https://calphotos.berkeley.edu/cgi/img_query?query_src=dl&where-taxon=Erigeron+annuus+ssp.+annuus&where-lifeform=specimen_tag&rel-lifeform=ne&rel-taxon=begins+with&where-lifeform=Plant




Contributors • Log In

Number of matches : 7
Query: SELECT * FROM img WHERE ready=1 and taxon like "Erigeron annuus ssp. annuus%" and (lifeform != "specimen_tag" OR lifeform != "Plant") ORDER BY taxon


Click on the thumbnail to see an enlargement


Erigeron annuus ssp. annuus
Daisy Fleabane
ID: 0000 0000 1005 0734 [detail]
© 2005 Dr. Amadej Trnkoczy




Erigeron annuus ssp. annuus
Daisy Fleabane
ID: 0000 0000 1005 0735 [detail]
© 2005 Dr. Amadej Trnkoczy




Erigeron annuus ssp. annuus
Daisy Fleabane
ID: 0000 0000 1005 0736 [detail]
© 2005 Dr. Amadej Trnkoczy




Erigeron annuus ssp. annuus
Daisy Fleabane
ID: 0000 0000 1005 0737 [detail]
© 2005 Dr. Amadej Trnkoczy




Erigeron annuus ssp. annuus
Daisy Fleabane
ID: 0000 0000 1005 0738 [detail]
© 2005 Dr. Amadej Trnkoczy




Erigeron annuus ssp. annuus
Daisy Fleabane
ID: 0000 0000 1005 0739 [detail]
© 2005 Dr. Amadej Trnkoczy




Erigeron annuus ssp. annuus
Daisy Fleabane
ID: 0000 0000 1005 0740 [detail]
© 2005 Dr. Amadej Trnkoczy



Using these photos: A variety of organizations and individuals have contributed photographs to CalPhotos. Please follow the usage guidelines provided with each image. Use and copyright information, as well as other details about the photo such as the date and the location, are available by clicking on the [detail] link under the thumbnail. See also: Using the Photos in CalPhotos .





Copyright &copy 1995-2019 UC Regents. All rights reserved.




CalPhotos is a project of BNHM University of California, Berkeley

Following modified from CalPhotos

Top | See original

http://calphotos.berkeley.edu/cgi/img_query?query_src=dl&where-taxon=Erigeron+annuus&where-lifeform=specimen_tag&rel-lifeform=ne&rel-taxon=begins+with&where-lifeform=Plant ---> https://calphotos.berkeley.edu/cgi/img_query?query_src=dl&where-taxon=Erigeron+annuus&where-lifeform=specimen_tag&rel-lifeform=ne&rel-taxon=begins+with&where-lifeform=Plant




Contributors • Log In

Number of matches : 21
Query: SELECT * FROM img WHERE ready=1 and taxon like "Erigeron annuus%" and (lifeform != "specimen_tag" OR lifeform != "Plant") ORDER BY taxon


Click on the thumbnail to see an enlargement


Erigeron annuus
Eastern Daisy Fleabane
ID: 0000 0000 0405 1745 [detail]
© 2005 Lisa Powers




Erigeron annuus
Daisy Fleabane
ID: 0000 0000 0605 1512 [detail]
© 2005 George Rembert




Erigeron annuus
ID: 0000 0000 0608 1572 [detail]
© 2008 Jason E. Willand




Erigeron annuus
ID: 0000 0000 0608 1573 [detail]
© 2008 Jason E. Willand




Erigeron annuus
Annual Fleabane
ID: 0000 1111 1234 0672 [detail]
© 2016 Keir Morse




Erigeron annuus
Annual Fleabane
ID: 0000 1111 1234 0673 [detail]
© 2016 Keir Morse




Erigeron annuus
Annual Fleabane
ID: 0000 1111 1234 0674 [detail]
© 2016 Keir Morse




Erigeron annuus
Annual Fleabane
ID: 0000 1111 1234 0675 [detail]
© 2016 Keir Morse




Erigeron annuus
Annual Fleabane
ID: 0000 1111 1234 0676 [detail]
© 2016 Keir Morse




Erigeron annuus
Annual Fleabane
ID: 0000 1111 1234 0677 [detail]
© 2016 Keir Morse




Erigeron annuus
Annual Fleabane
ID: 0000 1111 1234 0678 [detail]
© 2016 Keir Morse




Erigeron annuus
Annual Fleabane
ID: 0000 1111 1234 0679 [detail]
© 2016 Keir Morse




Erigeron annuus
Annual Fleabane
ID: 0000 1111 1234 0680 [detail]
© 2016 Keir Morse




Erigeron annuus
Annual Fleabane
ID: 0000 1111 1234 0681 [detail]
© 2016 Keir Morse




Erigeron annuus ssp. annuus
Daisy Fleabane
ID: 0000 0000 1005 0734 [detail]
© 2005 Dr. Amadej Trnkoczy




Erigeron annuus ssp. annuus
Daisy Fleabane
ID: 0000 0000 1005 0735 [detail]
© 2005 Dr. Amadej Trnkoczy




Erigeron annuus ssp. annuus
Daisy Fleabane
ID: 0000 0000 1005 0736 [detail]
© 2005 Dr. Amadej Trnkoczy




Erigeron annuus ssp. annuus
Daisy Fleabane
ID: 0000 0000 1005 0737 [detail]
© 2005 Dr. Amadej Trnkoczy




Erigeron annuus ssp. annuus
Daisy Fleabane
ID: 0000 0000 1005 0738 [detail]
© 2005 Dr. Amadej Trnkoczy




Erigeron annuus ssp. annuus
Daisy Fleabane
ID: 0000 0000 1005 0739 [detail]
© 2005 Dr. Amadej Trnkoczy




Erigeron annuus ssp. annuus
Daisy Fleabane
ID: 0000 0000 1005 0740 [detail]
© 2005 Dr. Amadej Trnkoczy



Using these photos: A variety of organizations and individuals have contributed photographs to CalPhotos. Please follow the usage guidelines provided with each image. Use and copyright information, as well as other details about the photo such as the date and the location, are available by clicking on the [detail] link under the thumbnail. See also: Using the Photos in CalPhotos .





Copyright &copy 1995-2019 UC Regents. All rights reserved.




CalPhotos is a project of BNHM University of California, Berkeley

Updated: 2019-11-15 12:44:51 gmt